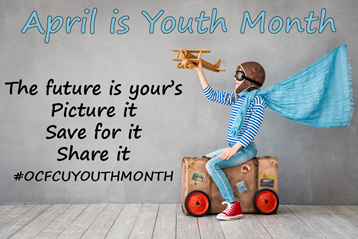 April is National Credit Union Month and we are going to celebrate!! 
April 2019
This April, Oswego County Federal Credit Union is celebrating Youth Month, which is a program that helps teach and encourage kids to develop good financial habits. This year's Youth Month inspires children to begin saving the money they earn so they can attain their dreams of a happy future.  We're encouraging all members to write down their dreams, create vision boards, and encourage each other. Our youth program is called  STAGES which will enable pre-teens and teens the opportunity to learn how to handle money responsibly and arms them with life skills. For more information about our STAGES program please see the link below or contact any of our four branches.  
Every member of the credit union under the age of 18 who opens an account and/or deposits into their account will receive fun gifts.  At the end of the month we will put all names in for a raffle and pick 3 lucky winners of some great prizes. Also don't forget to post a picture of your child, their age and what they want to save for on our Facebookpage with hashtag #OCFCUYOUTHMONTH for additional chances to win! Visit any of our four branches to participate.
Not able to make it into a branch?  Join Online here:
Want more information on our STAGES Program? Visit Here: