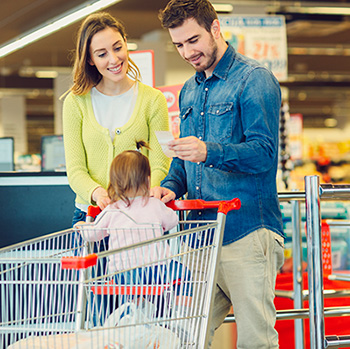 Free Checking
At Oswego County FCU, checking is free—no fee, no minimum balance required.
What does it offer compared to other financial institutions?
Our Free Checking account comes with free add-ons that others don't offer.
How does it work?
Just like any other checking account, except there are no fees and no minimum balance. And they're available with direct deposit, online banking, mobile banking and lines of credit.
Are there checking options?
Yes. There's Rebate Checking (where you earn 3.25% on your average daily balance up to $20,000. See below); My Points Plus debit card rewards; and the Round Up Account.
How do I sign up? 
Call or Stop by any Branch location. Or...
Sign Up Online
Rebate Checking
Earn 3.25% Rebate on Your Average Daily Balance*

Enroll in Rebate Checking from Oswego County Federal Credit Union, and start earning your rebate today!
You'll receive your rebate either in dollars or in gift cards for some of your favorite stores—your choice.
Here are the requirements:
Complete 15 Debit Card Transactions a Month
Make at least 1 Direct Deposit per Month totaling a minimum of $500.00
Sign up to Receive Monthly E-Statements
Enroll in OCFCU Online Banking
Visit your nearest Oswego County Federal Credit Union for complete details.
What will you do with your rebate?
*Rebate will be paid on a maximum average daily balance of $20,000.